Access Control Installation & Maintenance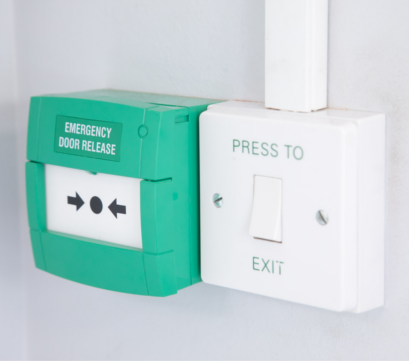 Preventing unwanted people from entering your premises and creating restricting areas can be easily achieved with our range of secure door entry and access control solutions.
At Integrity, we are very experienced access control installers and have made door entry and access control systems installation straightforward and cost-effective. We specialise in access installation and maintenance for door/access control systems for commercial and industrial properties across Birmingham and the West Midlands and also countrywide.
We provide all of our door/access control system customers with an in-house 24/7 emergency malfunction response and an inexpensive contract maintenance programme.
Access control installation for every situation
With a comprehensive range of product partners and extensive industry experience, we can install access control systems that range from a single leaf door to complex facilities involving multiple doors or barriers such as schools and hospitals. Just some of the applications include:
Control entry to a stockroom
Monitor entry of suppliers and visitors
Limit access to sensitive areas
Create a full audit trail that can be used for timesheet and payroll verification
Special duty and staff safety monitoring
Capacity control
Evacuation mustering systems
Code, card, fob, biometric and even ANPR entry options
Systems that can be integrated with intruder detection, CCTV and fire alarms
Access Control System Suppliers we work with
IP Access Control Solutions - Flexibility and ease of use
Electronic access control solutions can help protect your people and assets by letting you manage entry and exit to your site and various parts of the buildings within. In addition to preventing intruders or unauthorised personnel gaining access to parts of your premises, minimising the use of conventional keys and locks allows you to mitigate against risks such as the loss or unauthorised copying of keys.
IP-based access control can be deployed as a standalone system or integrated as part of a bespoke solution where multiple systems can all work together to provide reliable protective security. For example, adding visual verification via CCTV or the ability to communicate via intercom with a visitor requesting access to the building. As a specialist IP security company, it's our experience integrating security systems in this way that sets us apart.
We work with a technology ecosystem that has leading manufacturers such as Axis and Paxton at its heart. IP-based security systems are inherently scalable and whether you have one door or hundreds, and that number increases over time, we can offer a flexible solution using your existing IT infrastructure that will be easy to manage.
Our services extend beyond installation with unrivalled support via helpdesk and on-site maintenance to ensure your system can be relied upon for continuous protection. We can also provide staff training and advice on best practice for administration of your access control system to ensure compliance with the requirements of GDPR.
How Integrity can help
As experienced access control installers our first job is to provide a no-obligation survey to assess your exact access control requirements. Once we have a clear understanding of your premises and the risks you face, we can create a tailored security solution that meets the particular needs of your business.
We are are an approved access control installer and supplier of systems that meet European and British standards as well as the exacting demands of insurers. The result is a flexible, cost-effective and robust access control system for every situation, regardless of the property type or entry point you want to protect.
Get in touch to discuss your electronic access control installation requirements –we can help you with your access control system installation and maintenance requirements throughout the UK