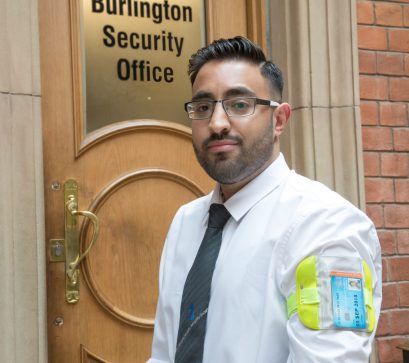 We take pride and are meticulous in the manned guarding security that we offer. We can supply professional Security Industry Authority – SIA licensed officers 24 hours a day, 365 days a year. Each staff member undergoes extensive background checks and is trained to industry standards. Further site specific training is also delivered to ensure that the officers are fully aware of your requirements. We believe in the benefit of staff development and continually review and monitor our performance on your contract. With your agreement we will then seek to retrain officers, adding to their skill base and to their effectiveness.
Our manned guarding security officers will provide a physical presence to deter potential wrongdoing. This may be unauthorised access or occupation of premises, we guard property from destruction, damage, theft or guard one or more individuals.
Frequently Asked Questions about Manned Guarding Services
What is manned guarding?
The practice of manned guarding is the protection of premises, personnel and assets on that property from unauthorised access or occupation that could otherwise result in damage or disorder, possible theft as well as the protection of individuals against assault or injury. This is achieved through patrolling of premises, raising of alarms, informing of violators of policy along with the escalating to the restraint of trespassers.
Are your security guards SIA licensed?
Yes, our extensive training means includes our staff undergo rigorous vetting procedures prior to them working at a client's premises.
What makes for a good security guard?
The key characteristics that we look for when selecting candidates are:
•    Alertness: the individual ever vigilant and aware of surroundings
•    Trustworthy: thorough vetting helps to evaluate this trait
•    Reliable: background checks again assist with determining this
•    Good level of fitness: regular medical check-ups help to maintain this
•    Communication skills: these are instilled throughout the training & selection process

Are your security guards uniformed?
Yes. It is imperative that both your staff and members of the public know the role that our guards play in the protection of your premises and staff. It also of course plays it's part in making potential trespassers think twice!
How much does your manned guarding services cost?
The pricing of our Manned Guards depends on the number of guards needed, the times in which our services are required and other specific conditions. For accurate pricing please Request a Quote on our page HERE.
What equipment do your security guards use?
These days a Smartphone is one of the most well utilised pieces of equipment for our security guards. Our staff use them for everything from booking on/off duty, lone worker check calls, electronic incident reports, evidencing patrols, photographing occurrences, email and of course telephone calls. We also provide other equipment such as CCTV, torches, body cameras, 2way radios, first aid kits and anything else that our security guards or the contract requires.