Fire Extinguishers Services
Fire extinguisher installation
During an annual basic fire extinguisher service, the extinguisher is inspected.  The engineer makes a visual inspection looking for signs of water, foam or powder discharge from the hose of an extinguisher, missing tamper tags or pins, gauges showing low pressure, rust, or any damage. They also look at all the extinguisher parts such as hoses, valves, pressure gauges, safety devices and mechanisms, to ensure they work properly, and replace 'O'rings, anti-tamper seals and safety pins/clips.
We also look check where the extinguisher is placed, to ensure it is easily accessible, and mounted on a suitable wall bracket or placed in a fire extinguisher stand.  We also provide you with a Certificate of Conformity for your records.
As part of our fire extinguisher servicing and installation service, we promise:
All fire extinguishers service and installation work is undertaken to the highest standards
All extinguishers carry a British Standard Kitemark
There is a five-year warranty with all new fire protection equipment
Installation and service work will be undertaken promptly
Free survey and quote without obligation
Fire extinguisher servicing
Extinguisher location is a vital element of any installation. As part of our free no-obligation site survey, we suggest the most accessible places for their fitting along with the best way for them to be mounted.
Selecting the appropriate type of extinguishers to protect your premises s also critical. Each site needs to be surveyed to determine the types of fire hazards the site could be subject to. Getting this selection wrong can also have more wide-reaching effects – in fact, not having the correct fire-fighting equipment in place is may also invalidate your business insurance!
Fire extinguisher servicing Frequently Asked Questions
Is Fire Extinguisher Servicing a Legal Requirement in the UK?
The Fire Safety Order of 2005 stipulates that commercial and industrial building owners must keep regularly-serviced fire extinguishers in their premises at all times. The legislation was passed in a bid to reduce commercial fires in the UK. Failure to meet this legal requirement can have numerous implications that range from severe fines to prosecution in a court of law.
How Often Should you service Fire Extinguishers?
If you already have fire extinguishers fitted in your premises, the next thing on your agenda is to know how often they need to be inspected and serviced. Fire extinguishers servicing and inspection is critical for both compliance and building safety. To avoid devastating losses in the case of a fire, you should make it a priority to service your extinguishers at least once every year. In fact, all fire safety equipment (not just fire extinguishers) in your building should be inspected and serviced by a qualified professional at least once every 12 months.
How Many Extinguishers Do I Need to Have?
There is no upper limit to the number of extinguishers you can have in your building. On the other hand, there is a minimum number of extinguishers you are required to have under the Fire Safety Order depending on the size and nature of your premises. UK fire safety regulations require that you have at least 2 'Class A' fire extinguishers on every floor of your building. Class A fire extinguishers are those that can put out carbonaceous fires or paper/wood fires. The capacity of the fire extinguishers can range from 3 litres to 9 litres depending on the size of the floors.
How Should Extinguishers Be Installed?
In order to comply with UK fire safety regulations, you should aim to fit extinguishers on walls or stands that are easily accessible. The extinguishers should be permanently fixed to these fixtures in order to prevent or discourage individuals from moving them. You should also clearly label all fire extinguishers in your building with appropriate ID signs that are posted next to them. Fire extinguisher ID signs should contain information on the type of fire extinguishers, how and when to use them, and the last time fire extinguisher servicing took place.
How Often Should Extinguishers Be Replaced?
UK fire safety regulations require that all fire extinguishers in commercial and non-domestic premises be replaced every 5 years. Replacement can be done early in cases where extinguishers are damaged, used or worn out. Replacement should be done by properly trained professionals to ensure that all fire safety standards are met.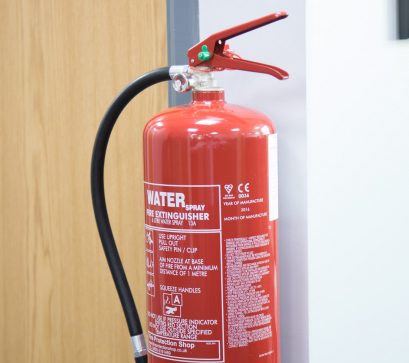 Fire extinguisher servicing, maintenance and installation
Integrity is experienced in installing, maintaining and servicing fire extinguishers across a wide range of sectors. This includes retail, commercial, industrial and office premises, manufacturing plants and distribution units throughout Birmingham and the West Midlands and also countrywide. We offer a free site survey to determine if your site is meeting with current legislation and can help you determine if your present fire extinguisher servicing is cost-effective.